From crisp apples to ripe pumpkins, the fall season brings a bountiful selection of produce, plants, and delicious treats. Shopping local gives artisans in our community the chance to thrive while supplying you with the freshest goods. Here's our list of the best fall markets in York, Pennsylvania, and surrounding areas.
Flinchbaugh's Orchard and Farm Market
Apple Trees UK: Creative Commons by tree2mydooris licensed by CC BY 2.0
Flinchbaugh's Orchard and Farm Market offers a wide selection of local produce, baked goods, locally sourced meat and food products, and gifts. Take home a sampling of Flinchbaugh's homemade jams and jellies made with fruits picked in the on-site orchard. The Bakery features fruit pies, artisan loaves of bread, cookies, cupcakes, and seasonal treats like pumpkin rolls and caramel apples. You'll also find fresh produce from Flinchbaugh's 420 acres of family-owned farmland. Select from the best of whatever's in season. Check out the cold market case for local dairy products, including milk and cheese, or grab a jug of cider or eggnog.
Location: 110 Ducktown Road, Hellam.
Hours: 9 a.m. to 6 p.m. Monday through Friday and 9 a.m. to 4 p.m. Saturday.
Brown's Orchards and Farm Markets
Head to Brown's Orchard and Farm Markets for seasonal produce harvested from their groves or sourced from other local growers. Enjoy fresh fall apples ripe off the tree, or take home a gallon or pint of Brown's classic cider to enjoy hot or cold. The market also features a bakery and cafe with goodies to savor in-store or at home. Taste the apple cider donuts or apple dumplings for a delicious fall treat.
Brown's also sells pantry items like local honey, jars of butter, sauces, pickles, and jams. Select your favorite sips from Logan's View Winery, another of Brown's offerings in fruity and crisp white wines. The greenhouse and cottage stocks arrangements of seasonal container gardens, hanging baskets, and single plants.
Location: 8892 Susquehanna Trail South, Loganville.
Hours: 9 a.m. to 6 p.m. Tuesday through Sunday.
Smyser's Farms
Smyser's Farmsflower and produce market becomes a fall festival destination during October. Visit the working farm on weekends to purchase pumpkins, seasonal produce, and flowers. Stay to enjoy the petting zoo, mazes, and hayrides with your family. Wander through greenhouses full of plants, floral arrangements, squash, lettuces, and fresh herbs to select your bounty. Smyser's also sells beef from cows raised on the property.
Location: 2890 South Salem Church Road, York.
Hours: 7 a.m. to 7 p.m. daily.
Dottie's Family Market
Dottie's Family Market offers a wide selection of blooms at their shop. The greenhouse stocks perennials, annuals, herbs, and seasonal vegetables in perfect fall colors and flavors for your garden. Dottie's features more local products in their deli and grab-and-go sections than you'd find in the same selections of a commercial food market. Taste local meats and cheeses and fresh fall produce from local farms. Dottie's specializes in seasonal products that give you the best fall flavors.
On-site at Dottie's Family Market, you'll find The Hive coffee shop serving locally sourced brews. Enjoy tasty baked goods, soups, salads, and smoothies in the quaint cafe.
Location: 898 E. Canal Road, Dover.
Hours: 5 a.m. to 11 p.m. daily.
Mt. Airy Orchards
Find fall apples and pumpkins at this working farm and agritourism spot. Before deciding what seasonal produce to purchase, take an orchard tour to learn more about Mt.'s Airy'sefforts to grow the best you-pick produce. The on-site cafe, Karen's Kitchen, features seasonal delicacies year-round, but fresh apple crisp or hot apple cider donuts taste delicious when the air is cool. Head to the you-pick pumpkin shed or the apple barn to start your journey into the fields and orchards.
Mt. Airy Orchards hosts fall fun for the family with unique play structures like the "Applebinazium" or the sprawling corn maze. The farm stand at the front of the property offers fresh fruits and veggies with an ice cream shop next door.
Location: 522 E. Mount Airy Road, Dillsburg.
Hours: 9 a.m. to 6 p.m. Thursday through Saturday.
Miller Plant Farm
Head to Miller Plant Farmon weekends in October to join in the fun at Fall Fest. Find your perfect pumpkin and enjoy the season as the farm comes alive with scenic wagon rides, food trucks, and games and crafts for the kids. Miller Plant Farm sells plants, herbs, and products that start from seed on the property. Shop the farm store for in-season vegetables and fruits, plus specialty arrangements made with fall foliage. Miller Plant Farm also offers a selection of planting and gardening supplies, including pottery and soil.
Location: 420 Indian Rock Dam Road, York.
Hours: March through December with varying hours.
The Markets at Shrewsbury
Bring home seasonal produce and treats from The Markets at Shrewsbury, a traditional Amish market featuring 19 local artisans. Browse the market stalls for homemade baked goods in fall flavors or find handmade gifts from Amish expert makers. Ruthie's Bakery serves seasonal favorites like pumpkin rolls and pecan pies with a selection of gluten-free and sugar-free products so everyone can enjoy a treat.
Glick's Produce stocks homegrown and locally sourced produce featuring the best of the season. Head to Beiler's Candy Stand for gourmet caramel apples, fresh fudge, and old-fashioned novelty candy if you want to give trick-or-treaters a taste from the past.
Location: 12025 Susquehanna Trail South, Glen Rock.
Hours: 9 a.m. to 5 p.m. Thursday, 9 a.m. to 7 p.m. Friday, and 8 a.m. to 4 p.m. Saturday.
Central Market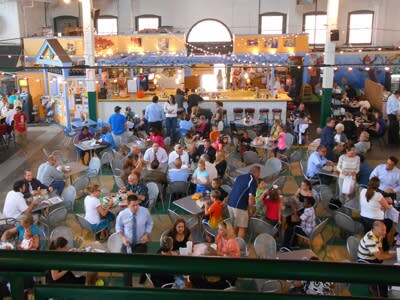 ?
A York tradition for over 100 years, the Central Market hosts dozens of vendors selling homegrown, handmade, and fresh goods. Find seasonal produce at Orchard Valley Farm and Dennis Fitz Home Grown Fruits & Vegetables. Munch on Bakery treats from any of the market's five on-site bakeshops. York's Central Market also features 17 specialty food stalls in the food court, each serving different delicious cuisine, plus ten specialty food shops with everything from smoothie bowls to waffles throughout the market.
Location: 34 W. Philadelphia Street, York.
Hours: 7 a.m. to 2 p.m. Tuesday with limited vendors, 7 a.m. to 2 p.m. Thursday, 6 a.m. to 2 p.m. Saturday, and 5 p.m. to 9 p.m. on the first Friday of the month.
We hope our list inspires you to shop local and enjoy farm-fresh produce featuring the season's bounty. Contact us to share your suggestions with our staff.