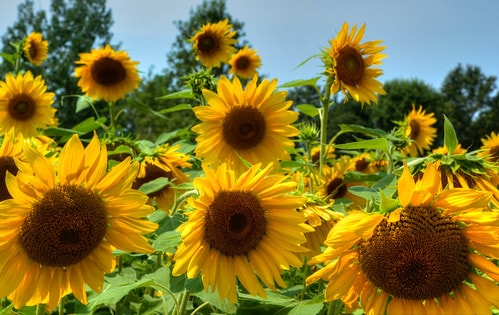 Sunflowers by Michaelis licensed with CC BY-ND 2.0
Bright and cheerful, sunflowers can liven up any bouquet or tabletop. Choose your own blossoms from local farms as you wander through you-pick fields in our area. To help you pick your own bunch from the sunny fields, we've put together a list of the best sunflower fields around York, Pennsylvania.
Maple Lawn Farms
Every August, Maple Lawn Farmshosts Pennsylvania's Sunflower Festivalin their sprawling fields and throughout the farm grounds. The largest sunflower field east of the Mississippi, Maple Lawn Farms grows over 100,000 blooms in multiple varieties across eight acres. Come take a wagon ride out to the fields, snap plenty of photos among the blossoms, and choose your perfect sunflower to take home. Enjoy live music, food trucks, fresh-baked treats, and a produce market on select dates. Stop by the Maple Lawn Farms Winery and Cider house to sample locally-crafted vintages and brews.
In the fall, Maple Lawn hosts the annual Maize Quest Corn Maze and Fun Park on the property. Visit the orchards throughout the year to pick your own cherries, blueberries, apricots, peaches, apples, and pumpkins, or shop for seasonal produce, treats, honey, and jams at Maple Lawn's farm market.
Location: 2885 New Park Road, New Park.
Hours: Varied.
White Clover Family Farm
White Clover Family Farmlets you pick your own sunflowers throughout August for $1 per stem, seven for $5, or in pre-gathered bouquets at their roadside stand. The farm offers free photos among the sunflowers with any purchase.
Make a weekend experience out of your sunflower quest with a stay in the quaint farmhouse on the property, which owners John and Linda operate as an Airbnb rental. Watch deer wander by and enjoy an evening at the fire pit under the stars. Stop by the farm any time of year for fresh eggs from White Clover's chickens. Another feature of White Clover is their Wine and Wicks shop, where you can create your own soy candle while sipping a glass of wine or sparkling cider and chatting with friends.
Location: 327 Campbell Road, York.
Hours: Produce, jars, and eggs from 9 a.m. to 7:30 p.m. Wednesday through Sunday; Plants, trees, and flowers seven days a week.
Terra Farms
Although Terra Farmsisn't dedicated only to sunflowers, the number of blooms you can find on their you-pick fields is breathtaking. Choose your size container to fill, starting at $25, and meander past colorful blossoms in a myriad of shades and varieties. After you fill your basket, relax at Terra Farms' outdoor arranging tables to create your bouquet. Picking season runs from July through October, Friday through Sunday.
A favorite for wedding bouquets, Terra Farms also stocks premium blooms year-round at their roadside stand. Shop online for special arrangements or use Terra Farms' website to create a custom bouquet for your event. In addition to seasonal picking, the farm hosts events like gardening workshops and brunch in the fields.
Location: 2605 Buffalo Valley Road, Spring Valley.
Hours: 9 a.m. to 7 p.m. Friday and Saturday and 1 p.m. to 7 p.m. Sunday.
Mt. Airy Orchards
Summer through early fall, pick your own sunflowers at Mt. Airy's fields. Bring your pruning shears or borrow some from Mt. Airy with a refundable deposit. Pay $1.99 per stem or in groups of five for $7.99. Stop at Karen's Kitchen for apple cider donuts baked fresh year-round. Kids can enjoy time at Mt. Airy's playground during the summer and fall. The play complex is full of kid-sized delights, like Mt. Airy's "Apple Bin-azium," an apple crate play structure, the cow train, pedal carts, a rope spider web, and lots of slides.
Location: 522 E. Mount Airy Road, Dillsburg.
Hours: 9 a.m. to 6 p.m. Thursday through Saturday.
Flinchbaugh's Orchard and Farm Market
Cut sunflowers from the stalk from mid-July through October at Flinchbaugh's Orchard and Farm Market. Flinchbaugh's supplies shears and bags for your flowers so you can pick your favorite blooms as you stroll through the fields. Nearby parking and check-out stands help simplify your experience at this sprawling farm and market. Purchase a single stem for $2.99 or buy four blooms for $8.
Before leaving, stop by the store for fresh produce and seasonal treats, local snacks, meat, and dairy products. Flinchbaugh's bakery serves fruit pies, artisan bread, and other sweet goodies throughout the year.
Location: 110 Ducktown Road, Hellam.
Hours: 9 a.m. to 6 p.m. Monday through Friday and 9 a.m. to 4 p.m. Saturday.
Smyser's Farm
Smyser's Farmopens its sunflower farms for family photos in the summer. The cost is $5 per person, and you'll need to bring your camera. Smyser's has staff on hand to take the photos among the sunflower stalks. Smyser's specializes in cultivating fresh seasonal blooms for sale in their greenhouse market. The farm also offers produce and beef in their market shop. Their annual fall festival turns the farm into a pumpkin extravaganza on weekends in October.
Location: 2890 South Salem Church Road, York.
Hours: 7 a.m. to 7 p.m., daily.
Family Tree Farm
Gather annual summer blooms, including sunflowers, at Family Tree Farm. Purchase a container for $15 and fill it with blossoms of your choice. The farm provides cutters and a flower conditioner to keep your stems fresh. Bring home fresh-picked seasonal veggies from the farm, like tomatoes and sweet corn, after your sunflower clipping.
As the sunflowers fade, fall means apple picking time, with delicious varieties like Fuji, Honeycrisp, and Pink Lady. Head back in winter to pick your own Christmas tree cut right from the farm. Choose from Blue Spruce, Douglas Fir, Fraser Fir, and Concolor.
Location: 4802 Dairy Road, Red Lion.
Hours: U-Pick Flowers: 9 a.m. to 6 p.m. Friday, 9 a.m. to 5 p.m. Saturday, and 9 a.m. to 4 p.m. Sunday until September 19th; Farm Stand: 9 a.m. to 6 p.m. Monday through Friday, 9 a.m. to 5 p.m. Saturday, and 9 a.m. to 4 p.m. Sunday.
We hope you find all your perfect blooms with a little help from our list of great sunflower fields around York. Many of our sunflower spots also offer fresh produce, so you can pick your flowers and veggies on the same trip. If you know about another perfect spot we haven't mentioned, tell us about it. We'd love to hear about it.