York, Pennsylvania, is a booming and dynamic town that has a friendly community with lots of options to keep you busy. Known as the Factory Tour Capital of the World, its home to the Harley-Davidson factory, several chip and pretzel factories, wood shops, and a violin workshop. Whether you're from York or passing through, you'll be delighted by all the entertaining options in Downtown York. This city, with a remarkable history, provides great shopping options, delicious eateries and restaurants, and several learning opportunities. Learn about some exciting things to do in Downtown York, Pennsylvania.
Penn Market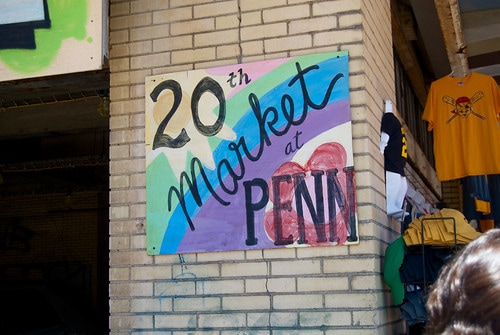 Image via Flickr by nick.amoscato
Penn Market opened in 1866 and is the oldest farmer's market in York. With farm-to-table freshness, the market is open on select days every week throughout the year, attracting local artisans, grocers, and shoppers. The market offers a variety of seasonal and fresh fruits, vegetables, cheeses, and baked goods. If you're looking for a special treat for your family's dinner, or want to gift a unique item, this place has what you need.
The Penn Farmer's Market, located in the red brick building on the corner of Market Street and Penn Street, at 380 West Market St., is a local favorite and, for many families, a weekly tradition. Penn Market is open throughout the year on Tuesday, Friday, and Saturday from 6:30 a.m. to 2:30 p.m. The market has a free parking lot for shoppers to the east of the building, making a stop quick and convenient. For information, or to learn more about the vendors, visit the website.
Murals of York
The Murals of York are a series of street art painted on the sides of buildings in York, between 1996 and 2002. Paid for with local donations, the murals add color to the city and capture important but lesser-known historical facts, impactful people, and city traditions. Through a collaborative effort between local artists and city leadership, Royal Square has become a popular destination for visitors and an eclectic outdoor museum.
Some particularly eye-catching murals to look out for when you walk downtown's Royal Square are "Nasturtium" painted by Jacintha Clark, "Oracle" by Aron Rook, and "Bird For Spoken Word" painted by York-based artist Andrius Polonikus. Another favorite mural and exceptional photo op is a piece created by Chelsea Foster, a York native. Simply titled "York," the mural bright colors and intricate hand lettering. This particular mural, displayed on Howard Street by Collusion Tapworks Parking Lot, is a local favorite for everything from modeling headshots, social networking profile pictures, engagement photos, and senior graduation cap and gown pictures.
When taking the Mural Walk, we suggest you begin your journey in the Royal Square Courtyard behind the Cantina, walk through S. Howard Street, round the corner at Newton Avenue, and end at Collusion Tapworks. For more information, check out the website.
Martin Library
To see the largest collection of books in York, visit Martin Library. Having been in its current location since 1935, the city landmark has three levels to store the collections, run the varied programs and community events, and for gathering. With over 70 computers, and Wi-Fi, the library serves as a valuable learning resource for the York community. There are study rooms, an after-hours book drop-off, printing, copying, and scanning services, and rooms available to reserve and rent for your next meeting.
The library sits at the corner of Market and Queen Streets at 159 East Market St. Library hours are Monday through Thursday from 10 a.m. to 6 p.m., and Friday and Saturday from 10 a.m. to 1 p.m. For information on guided tours and other community events, call 717-846-5300.
Appell Center for the Performing Arts
If you're looking for a fun evening out in downtown York, consider taking in a show at the Appell Center for the Performing Arts. With a mission to inspire, educate, entertain and unite, the Appell Center brings together the York community and provides an artist release for all who enter. The center features two theaters. The Strand Theater built in 1925, and the Capital Theater built in 1906, each have their individual storied pasts and function to keep the arts alive in York County.
Upcoming performances range from theater to music and comedy. Planning your visit ahead of time makes finding a show that suites your interests easy. Jazz in City is featured in early February while the Royal Opera House will host a production of Tosca on February 13. Tickets prices vary per event, so check the website for an update on performances and prices.
The Appell Center for the Performing Arts is 50 North George St. For information regarding community outreach programs, children's camps, and Master classes, call 717-846-1111.
York County History Center
For a little taste of culture and an engaging experience, visit the York County History Center. Here you'll learn about York County's past by exploring the historical artifacts, learning about the people, and understanding the different cultures that shape the community. With the support of collections, historical sites, and museums, the center provides over 90,000 artifacts that recount about 300 years of York County's impressive history. The center hosts group tours, field trip for students, and homeschool days for learners.
Encompassing four different sites, the York County History Center comprises the Historical Society Museum at 250 East Market St., the Agricultural and Industrial Museum at 217 West Princess St., the Colonial Complex at 157 West Market St., and the Fire Museum at 757 West Market St. Check the website for individual hours or closures because of inclement weather. For information, call 717-848-1587.
So there you have it. Apple - AutoOne has just shared with you our ideas for the best things to do in downtown York, Pennsylvania. When you're in the area and looking for something entertaining, consider one of these options. What do you think of our list? Did we miss your favorite place to visit in downtown York? Let us know by leaving a message sharing your ideas and we'll be happy to check out your suggestions.