Choosing a bed-and-breakfast over a hotel is the best way to get a more personal experience when you are away from home. Every bed-and-breakfast is unique, but no matter which one you stay in, you can expect a delicious breakfast to start your day. In York, Pennsylvania, you'll find some wonderful bed-and-breakfasts. Several occupy the historical buildings in the area, offering a warm and welcoming stay along with some local history.
The Emig Mansion Bed and Breakfast
The Emig Mansion Bed and Breakfast sits on the property that was once the Emig family farm. The patriarch, Valentine, purchased the property in 1802 and later passed it on to John Jr., his grandson. John Jr. built the Emig Mansion on the homestead and lived there with his family working as a farmer and entrepreneur.
John became the local railroad agent and ran a lime production business using the railroad to transport his product. In addition to these jobs, he also held several other titles and ran more than one business, becoming one of the most influential businessmen in the area.
After the Emig family was gone, the mansion fell into disrepair. A local realtor restored the home in the 1980s, and it has been a bed-and-breakfast ever since. Each of the guest rooms has its own unique charm. They are named after the Emig children that lived in the home in the 1800s, and all rooms have authentic antique furniture and reproductions.
Each morning, a home-cooked breakfast awaits guests at the Emig Mansion. In the warm months, you can take it out on the Victorian porch.
Grace Manor Bed and Breakfast
You'll find Grace Manor in downtown York, Pennsylvania. Each of the rooms has a unique theme. The inn's proprietor and designer thoughtfully created each room and designed them to give guests a relaxing and welcoming feel. When you book a stay at Grace Manor for the family, you can choose the French suite with room for up to four guests. This suite has four rooms, including a kitchenette, bath, and lounges, and they all have French-inspired décor.
The Swiss Chalet Suite has room for three guests and an open loft feel. This beautiful suite has exposed wood beams and a beautiful view from the king-size bed. Choose the Asian Suite for elements of Asian culture in the two rooms. It features a hand-carved Malaysian canopy bed and a Japanese-inspired bath.
Every stay at Grace Manor comes with a Southern-influenced three-course breakfast.
Lady Linden Bed and Breakfast
History buffs will enjoy a stay at the luxurious Lady Linden Bed and Breakfast. It sits in an 1887 Queen Anne-style Victorian home. The suites have private baths and are furnished with comfortable feather beds. The original owner of the house, Samuel Nevin Hench, designed and sold farm harvesting equipment. He and his partner Walker A. Dromgold built their homes next to each other and raised their families together.
The historic home now features unique guest rooms. The Grecian Room is elegant with a warm and welcoming feeling. It has a queen-sized bed, a writing table, and easy chairs for relaxing. The adjoining bath has a claw foot tub, and off the bathroom, you'll find a large sitting porch overlooking the pond.
The Asian Room also has a queen-sized bed, easy chairs, and a writing table. The décor features Asian influences.
Each morning, the four-course breakfast includes fresh fruit, coffee, juice, a cooked-course, homemade baked goods, and even breakfast sundaes.
B.F. Hiestand House B&B
Located in nearby Marietta, Pennsylvania, the B.F. Hiestand House Bed and Breakfast makes the perfect home away from home when you visit the York, Pennsylvania area. Your hosts, Pam and Dallas Fritz, are friendly, welcoming, and ready to make your stay memorable.
All the rooms have high-quality mattresses, private en-suite baths, cotton Turkish towels and robes, free Wi-Fi, and individual climate control. The common areas at this bed-and-breakfast include a wonderful wraparound veranda with wicker furniture where you can sit and relax. The entire house has air conditioning to keep everyone comfortable, and there is a standard refrigerator and microwave.
The Cannon Cottage is a unique room that sits separate from the house. It has a king-size bed with a pillow-top mattress, a gas fireplace, and a private bath with a two-person whirlpool tub. The bath also features a heated tile floor, spa shower, and heated towel rack.
Inside the house, you'll find the Vanderslice Suite with a private sitting room, the Victoria Room with a queen-size mahogany sleigh bed and large bay window, and the Susquehanna Room with shaker style furniture and a steam shower for two.
The hosts serve breakfast every day between 7:30 a.m. and 9 a.m. You can get fresh fruit, muffins, scones, and hot dishes such as stuffed French toast and egg casserole. There is also a variety of coffee and tea every morning.
Jackson House Bed and Breakfast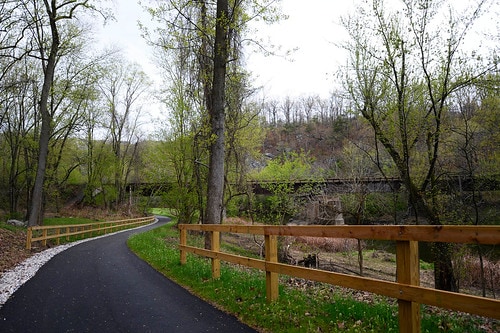 Image via Flickr by USACE HQ
Book a stay at the Jackson House Bed and Breakfast and enjoy the historic area and beautiful property. The B&B sits right on the Heritage Bike Trail, making it ideal for an afternoon ride or walk. The Jackson House features a large stone dining room where you can have your breakfast, and the six guest rooms feature antique furniture and private baths.
Some rooms include the Stonewall Jackson Room with a king-size bed, the Cottage Suite with a gas fireplace, Jacuzzi bath, screened-in porch, and cathedral ceiling. You can also stay in the Rail Trail Suite, which has a private entrance and sits right on the Heritage Rail Trail.
Depending on the day, the daily breakfast consists of a main course that might be stuffed sausage roll, crustless quiche, or blueberry waffles. You can also get fresh fruit, baked goods, and unlimited coffee and tea.
These are some of our favorite bed-and-breakfasts in the York area. Make sure to stop by Your Auto Source when you are in town, and we can help you with all of your used car or truck needs.