The Best Used Trucks Under $20K
Buying a used truck can prove to be a great deal, as you can get a trustworthy and reliable road companion for a fraction of its original price. The trucks on this list have been on the street for a few years but can still do an amazing job. These are six of the best used trucks currently on the market that you can get for less than $20,000.
Chevrolet Silverado
Full-sized pickup trucks used to be highly reliable vehicles but not very refined. This gradually changed over the past few decades, with trucks becoming more and more stylish and comfortable, up to the point where you could easily use them as personal vehicles. For around $20,000 you can buy a Chevrolet Silverado that's between five and 10 years old. This means that you'll be getting a great-looking used vehicle with a spacious interior and excellent capabilities for the price of a hatchback or compact sedan.
Most pre-owned models come with a 4.3-liter V6 that can produce up to 285 horsepower and 305 pound-feet of torque, paired with a six-speed automatic transmission. Other models come with either a 5.3-liter V8 or a 6.2-liter V8, with both being able to tow up to almost 12,000 pounds when properly equipped. On the inside, the Chevrolet Silverado is not only spacious but also smartly designed, and displays great build quality throughout. It also has plenty of infotainment options, with an available 8-inch touch-screen interface, as well as Bluetooth audio connectivity and a 4G LTE Wi-Fi system.
Dodge Ram 1500
The Ram 1500 is also a great solution for those who need a powerful truck at work but would also like to use it for personal activities. Its rear spring suspension system is perfect for that, providing a smooth ride even on slightly bumpy roads, but also being firm enough to help the vehicle safely tow heavy loads. Some models also have an optional air suspension, which makes them even more comfortable, while keeping the truck level when carrying or towing.
Its base engine is slightly more powerful than the Silverado's, with up to 305 horsepower and 269 pound-feet of torque. Other engines you may find on used models are a powerful 5.7-liter V8 with 395 horsepower and 410 pound-feet of torque, and a turbocharged diesel V6 with up to 240 horsepower and 420 pound-feet of torque. The V8 has the highest tow rating with almost 11,000 pounds, which should be enough for most tasks.
Toyota Tundra
If you also plan on using your used truck for off-roading adventures, you may want to take a close look at the Toyota Tundra. Starting with the 2014 model, all its engines are V8s, with the base one being a 4.6-liter that can produce up to 301 horsepower and 327 pound-feet of torque. The other engine option is a more powerful 5.7-liter, which can generate up to 381 horsepower and 401 pound-feet of torque. All Tundras equipped with the 5.7-liter V8 come with a standard tow package, increasing their maximum tow capacity to almost 11,000 pounds.
If you're an off-road enthusiast, you may want to look for a Toyota Tundra in the TRD Pro trim, which is specially configured to provide optimal off-road performance. Some of its main additions are the large 18-inch wheels, a ride height that's increased by two inches, Bilstein shocks, a special TRD dual exhaust, a front skid plate, plus additional interior and exterior styling details.
Ford F-150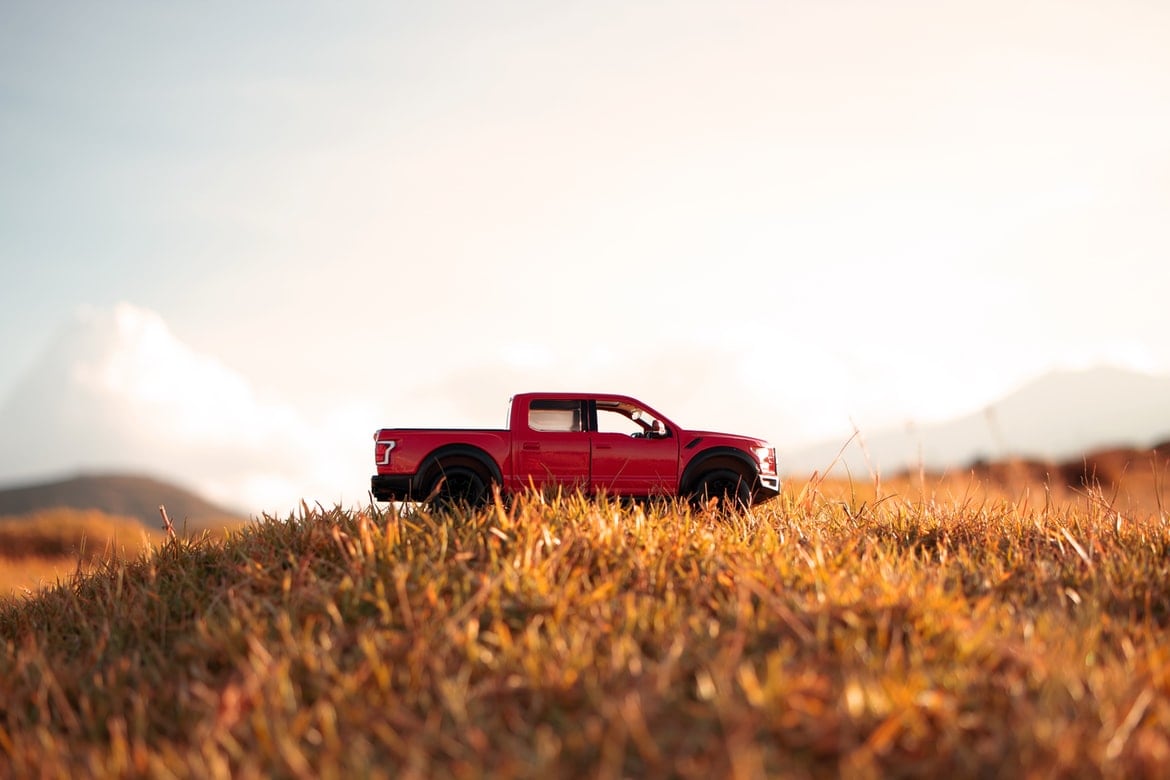 Image via Unsplash by Ivan Diaz
The F-150 has a multitude of available trims, so choosing a used one depends greatly on what you plan on doing with it. The base trim resembles a classic work truck but still comes with convenient standard features like air-conditioning, keyless entry, and power front windows. Higher trims make the F-150 sportier, more comfortable, better suited for venturing onto off-road terrains, or more luxurious, so finding one in a trim that matches your priorities may be more important than for other used trucks on this list. However, every trim offers a decent standard of quality, comfort, and capability.
The standard engine is a 3.7-liter V6 with a maximum output of 302 horsepower and 278 pound-feet of torque. The most powerful engine choice is a 6.2-liter V8 that can produce up to 411 horsepower and 434 pound-feet of torque. Tow ratings vary depending on engine size, with the F-150 having a maximum tow rating of around 11,000 pounds, close to other trucks on this list.
GMC Sierra 1500
If passenger comfort and infotainment features are important to you when choosing a truck, the GMC Sierra 1500 should definitely be on your shortlist, especially models from 2014 onwards, which are from its fourth generation. Even the base version is decently equipped for passenger comfort, with elements like cruise control, power windows, elegant cloth upholstery, and a USB port where you can connect your smartphone. Higher trims add more infotainment features, like an 8-inch color display, Bluetooth connectivity, a Bose sound system, and even a rear-seat entertainment system with a Blu-ray player.
Just because it has more SUV-like features than other trucks doesn't mean that the Sierra 1500 is less capable. Its engines vary from the standard 4.3-liter V6 with 285 horsepower and 305 pound-feet of torque to a 6.2-liter V8 with 420 horsepower and 460 pound-feet of torque. Also, it can tow up to around 11,000 pounds, depending on engine size and equipment.
Honda Ridgeline
The Honda Ridgeline is a great choice for drivers looking for a vehicle with car-like comfort and maneuvering but with some cargo space in the back for light and medium loads. You're likely to be getting a well-equipped vehicle regardless of its trim, as even the base version comes with useful features like a rearview camera, cruise control, full power accessories, a six-speaker sound system, and other comfort and infotainment elements that make the Ridgeline similar to a crossover SUV.
Ridgeline models under $20,000 are usually from the 2013 and 2014 model years and are likely to be equipped with a 3.5-liter V6 engine. It can produce a maximum of 250 horsepower and 247 pound-feet of torque, helped by a five-speed automatic transmission and all-wheel drive.
Buying a used truck can save you lots of money when compared to getting a new one but can also eliminate the need for both a work vehicle and a personal one. If you want to check out a large inventory of used trucks in excellent condition, contact us at Apple - Your Auto Source or pay us a visit!