4 Popular Attractions Around York County, PA
York, Pennsylvania, has attractions year-round, and it's a breeze finding something exciting to do. Whether you want to eat hot dogs at the county fair, play slots at a local casino, or sip on tasty wine, you can find a fun activity on this list of popular attractions near York created by our team at Your Auto Source.
York State Fair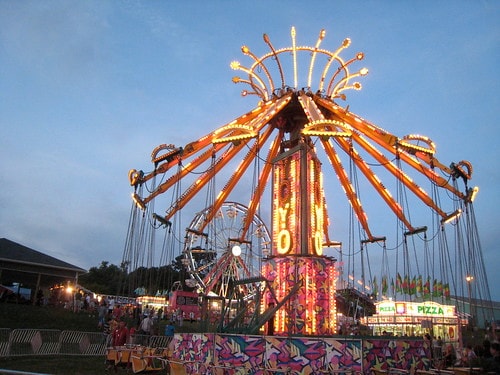 Image via Flickr by mrgarin
Everyone in the family can find something fun to do at the annual York State Fair. Since 1765, residents of York have visited the York Fair, the first and oldest fair held in America. The fair started as a small agricultural market, and over the years as the taste of entertainment changed, the fair has added dance competitions, horse races, animal exhibits, and a midway.
As you wander through the fairgrounds, stop by the agriculture building to see exciting animals like Texas longhorn cattle, exotic poultry, and fuzzy rabbits. Enjoy the flowers in the horticulture hall, toss coins for prizes at the midway, and get a thrill riding the Ferris wheel.
During the fair, held during the last week of July and the first week of August, you'll get to see live music performed by top-name performers such as Toby Keith, the Steve Miller Band, and Jason Aldean.
Location: 334 Carlisle Ave, York, PA 17404
Call: 717-848-2596
BAPS Motor Speedway
Experience the thrill of speed when you see cars zooming around the BAPS Motor Speedway. This family-friendly race track encourages fans young and old to sit in the stands and cheer their favorite drivers on. If you're fortunate enough to enter the race pits, you'll get to see the pit crew changing tires, fueling up the vehicles, and drivers gearing up to race the 4/10 of a mile semi-banked oval track.
Events at BAPS Motor Speedway include Monster Truck Mania, Speedweek, Modified Competition, and Late Model Formula One races. If you get hungry during a race, you can stop by the concession stand to fuel your body up.
Location: 690 York Road in York Haven
Call: 717-938-9170
Appell Center for the Performing Arts
See a variety of performing artists year-round when you see a show at Appell Center for the Performing Arts. The center comprises two historic buildings, the Strand Theatre and the Capitol Theatre. Built in 1925, the Strand Theatre features Italian Renaissance architecture complete with 1,800 pounds of gold leaf and murals adorning the walls. The Capitol Theatre, built in 1906, was originally intended as a dance hall. In 1926, films were shown in the theater and continued as a movie theater until 1977. Today, both of these striking historic theaters host top-name artists and up-and-coming talent.
Look for shows such as Jazz in the City, a tribute to John Williams for his 90th birthday celebration, standup comedy, and artists like Gordon Lightfoot and Langhorne Slim. You can also catch theater performances like Waitress, the Underwater Bubble Show, and Madagascar the Musical. Be enthralled by performances by the York Symphony, the Opera Royal House, and tributes to bands such as Queen, Pink Floyd, and Lynyrd Skynyrd.
Location: 50 N. George St.
Call: 717-846-1111
Hollywood Casino at Penn National Race Course
Feel the excitement of gaming and horse racing when you spend the day at Hollywood Casino at Penn National Race Course. In the Hollywood Casino, you'll have access to over 2,100 slot machines, 60 gaming tables, and a live poker room. You can play video slot and video poker on machines scattered throughout Hollywood Casino. With 17 poker tables, you can try your hand at blackjack or any of your favorite card games.
All year long, you can experience the thrill of live horse racing at Penn National Race Course. If you don't want to head outside to the track, you can enjoy the race from the simulcast inside of the casino. Not only can you enjoy gaming and betting on the horses, but you can also hear live music on the Hollywood Outdoor Concerts Series held during the summer months. Every night, you can hear free live music and performances in the H Lounge with local musical acts, tribute bands, and smooth jazz ensembles.
You won't go hungry while at the Hollywood Casino at Penn National Race Course. You can have drinks and bar snacks at the H Lounge Bar, sip on handcrafted beer at the Tattered Flag, enjoy Italian food and upscale burgers at The Eatery by Fabio Viviani, or go for an elegant meal at the Final Cut Steakhouse. Here, you'll dine on Angus beef, fresh seafood delivered daily, and freshly grown produce from the York area.
Location: 777 Hollywood Blvd. in Grantville
Call: 717-469-2211
When you need a quality pre-owned vehicle to help you drive to these popular York destinations and attractions, our team at Your Auto Source can assist you in finding the perfect truck, SUV, or car to get you there. Feel free to contact us or stop by Your Auto Source to meet our team and browse our large inventory of pre-owned vehicles.