Going out for a family meal or for a romantic evening is a great way to bond and make memories. When you're looking for great places to eat in the Shiloh, Pennsylvania, area, stop by any of these suggested restaurants for a variety of cuisines.
Lyndon Diner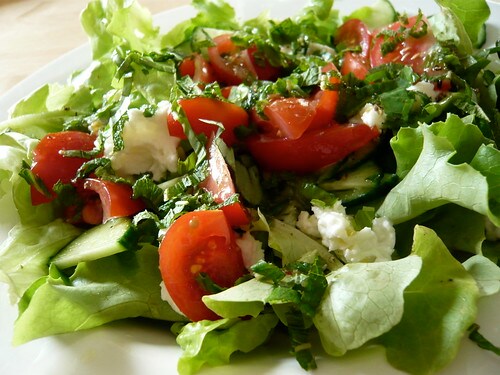 Lunchtime salad by WordRidden licensed by CC BY 2.0
With two locations right near Shiloh, you'll always have the opportunity to stop by a local favorite, Lyndon Diner. Serving breakfast, lunch, and dinner, the team at Lyndon Diner welcomes you to enjoy a variety of dishes. You'll find menu items made with locally sourced ingredients like thick sandwiches, fresh soups, healthy salads, hearty breakfast items, and dinner favorites like fried chicken, pork chops, or homemade meatloaf.
Location: 1370 Manheim Pike in Lancaster
Contact: 717-393-4878
Location: 1353 Kenneth Road in York
Contact: 717- 699-5523
Moonlight Cafe
The Moonlight Cafe is charming and romantic, serving innovative food to please anyone. You'll want to come to the Moonlight Cafe for lunch or dinner to savor items like the moonlight crab dip, the pear and walnut salad, or the French onion soup. Choose an entree from the beef, veal, chicken, seafood, or pasta menus. Check out the lunch specials with dishes like the chicken marsala panini or filet mignon club sandwich. Save room for dessert to try tasty treats like limoncello cake or tiramisu.
Location: 4140 Carlisle Road in Dover
Contact: 717-292-5643
The Vault Pizza & Grill
You'll find such a huge variety of offerings at The Vault Pizza & Grill, that you'll want to visit time and time again. Start your meal with an appetizer like steamed shrimp and share a salad like the Asian chicken or salmon salad. For something heartier, try one of the chef's cheesesteaks, stromboli, or pizzas crafted with homemade hand-stretched dough. If you're craving a burger, gourmet pasta, or Baja fish tacos, The Vault Pizza & Grill has you covered.
After a day exploring the Heritage Trails around York, stop by The Vault Pizza and Grill for a satisfying meal.
Location: 1990 Carlisle Road in York
Contact: 717-764-6666
Joe StrEAT Cafe
Joe StrEAT Cafe is the perfect place to get breakfast and lunch all day. The cafe specializes in aromatic and tasty fresh-brewed coffee, nutritious food with natural ingredients, and tasty pastries to satisfy your sweet tooth.
Order from a variety of breakfast sandwiches, avocado toast, or the healthy acai bowl with fresh fruit and granola. When you visit for lunch, savor the chicken salad croissant, the shaved Brussels sprout and kale salad, or a hearty steak sandwich served on brioche bread.
Location: 1968 Carlisle Road in York
Contact: 717-900-5074
Eagle's Nest Restaurant
With stunning panoramic views and award-winning cuisine, The Eagle's Nest Restaurant is the perfect place for a romantic dinner. This upscale dining establishment offers refined appetizers like blackened tuna or stuffed mushroom caps. Moving on to your entree, consider the Cajun-inspired jambalaya, seafood zucchini, or the New York strip and crab cake combination. Seafood lovers will enjoy Atlantic salmon, deep-sea scallops, or the fisherman's creamy risotto. It's a breeze satisfying your sweet tooth with desserts like red velvet cake or the chocolate brownie.
Location: 2519 Mount Rose Ave. in York
Contact: 717-755-8095
Revival Social Club
Head to the Revival Social Club with friends for an evening of fun and globally inspired dishes. Shared items include roasted vegetables with hummus, General Tso's cauliflower, or wild moose meatballs. Try innovative dishes like the braised goat orecchiette or a grilled kale salad to expand your palate. The Revival Social Club also serves Sunday brunch with flavorful dishes like huevos rancheros or shrimp and grits.
Location: 19 North George St. in York
Contact: 717-430-2981
Roost Uncommon Kitchen
Roost Uncommon Kitchen serves breakfast and brunch every day, featuring home-cooked food made from scratch with the greatest attention to detail. After ordering your favorite breakfast beverage, settle in for one of the Roost's signature dishes like the Alamo with skillet cornbread, apricot butter, hash browns, and smoked brisket. For a south-of-the-border breakfast or brunch, try the Tex Mex omelet with salsa, cheddar cheese, and smoked brisket. If you're hankering for something sweet for breakfast, enjoy the brioche French toast or cinnamon roll pancakes.
Location: 35 West Market St. in York
Contact: 717-848-6576
Central Family Restaurant
The Central Family Restaurant has one of the largest menus on this list of restaurants near Shiloh, Pennsylvania. You can get breakfast all day long with any of your favorites along with a few creative dishes. For lunch or dinner, the chefs serve up a variety of appetizers, soups, salads, and sandwiches for every palate. For your entree, you can get everything from steak and ribs, to seafood, chicken, and vegetarian options. House specialties at Central Family Restaurant include local farm-raised deer and buffalo served as a burger or dinner plate with fried onions, mushrooms, and gravy.
Location: 400 N. George St. in York
Contact: 717-845-4478
Westgate Restaurant & Lounge
When you're craving an ice-cold soda with pizza, chicken wings, or comfort plates, head over to Westgate Restaurant & Lounge. This is a great place to get burgers, subs, or specialty sandwiches like the crab delight or roast beef melt. Stay for dinner to enjoy the fried shrimp platter, aromatic lasagna, or elegant veal parmesan. Westgate Restaurant & Lounge even has a kids menu for 12 and under.
Location: 1550-M Kenneth Road in York
Contact: 717-767-6614
There you have our team at Your Auto Source's recommendations for the best restaurants near Shiloh. Which dining establishment is your favorite and why? What dish would you order again? If you have a recommendation for other restaurants that we missed here, feel free to let us know. We love hearing about new places to enjoy a great meal.