Do you want to spend your summer having a blast at a classic theme park or taking a hike in a pristine natural area? York, Pennsylvania, and the surrounding areas offer lots of summer fun for families, and we have a rich historical heritage that dates back to America's founding. Whether you're looking for indoor or outdoor escapes, York is the perfect place to unwind, share some laughs, and make some memories. There's something for every member of the family, so check out our most popular attractions and start planning a summer worth remembering.
Altitude Trampoline Park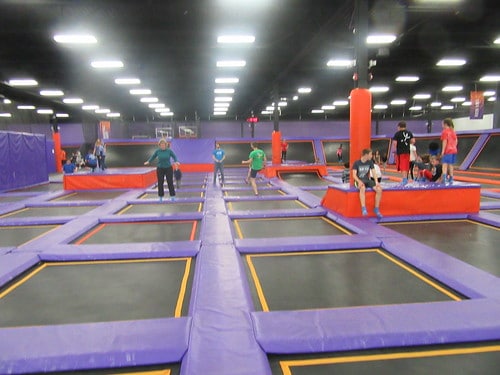 Image via Flickr by ralph_bean (CC BY 2.0)
Altitude Trampoline Park doesn't just encourage you to jump up and down. It wants you to "live the jump life." Land a slam dunk on the trampoline basketball court, soar through the air on a zipline, or show off your moves on an intense obstacle course. There's also a kid's zone for the youngsters who aren't big kids yet and mini golf for people who want to keep their feet on the ground. Wherever you look, you'll find something at Altitude Trampoline Park that gets you excited enough to jump off the walls, literally.
Location: 2142 White St.
Phone Number: 717-325-9360
Hersheypark
The chocolate capital of Pennsylvania, Hershey, is home to one of the biggest theme parks in the Northeast. Hersheypark's 121-acre sprawling complex located just outside of York features traditional amusements and themed rides like Hershey's Chocolate World, a zoo, and a water park. Enjoy a chocolaty family adventure with 70 rides and 15 thrilling roller coasters!
Candy-themed rides like the Jolly Rancher Remix and the Skyview with cars decorated in your favorite chocolate wrappers make this park uniquely Hershey. The 2-acre water park offers pools, lazy rivers, splash zones, slides, and water coasters. Nestled inside the main theme park on 11 acres, The Boardwalk is an exceptional place for summertime water activities around York. This is included with your daily admission and gives you access to16 attractions holding a total of 1 million gallons of water!
Location: 100 W. Hersheypark Dr.
Phone Number: 717-534-3900
Dorney Park and Wildwater Kingdom
Dorney Park is another theme park just a short journey outside of York. It gives you three parks in one with daily tickets for all rides and attractions, plus Wildwater Kingdom water park and a mini-park for kids called Planet Snoopy. Enjoy classic amusement park attractions, roller coasters, and water flume rides. Enjoy some gentle rides with younger members of your family or make a splash on dozens of slides and water attractions at Wildwater Kingdom.
Location: 4000 Dorney Park Rd., Allentown, PA
Phone Number: 610-395-3724
Valley Forge National Park
Explore the historical encampment site where the revolutionary army survived through a harrowing winter to fight another season. The park offers a museum with historical exhibits and artifacts from the American Revolution and a drivable site tour with historic buildings and locations. Instead of the summer heat, imagine freezing cold temperatures as your family explores the hills and valleys where troops endured harsh conditions.
Location: 1400 N. Outer Line Dr., King of Prussia PA
Phone Number: 610 783-1000
York Ice Arena
For the ultimate cool summer fun, head to the York Ice Arena for hockey and ice skating. The arena offers public ice skating on Monday and Friday afternoons from 12 p.m to 1:30 p.m. and weekend afternoons from 1 p.m to 3 p.m. Evening skates include Wednesday nights from 7 p.m. to 8:30 p.m. and Friday nights from 7 p.m. to 9 p.m. Rent or bring your skates and enjoy gliding along the ice with your family to beat the summer heat.
Location: 941 Vander Ave.
Phone Number: 717-848-1084
Susquehanna National Heritage Area
A nonprofit trust group runs two public recreation and historical areas along the Susquehanna River, including the Zimmerman Center for Heritage and the Columbia Crossing River Trails Center. Bring your family down to the river to explore history and nature through a variety of activities at each of these locations. The Zimmerman Center, located in a historic home, offers a starting point for exploring the waters by kayak or canoe and features Native American artifacts from the Susquehannock tribe.
Cross to the eastern side of the river to visit the Columbia Crossing River Trails Center, which has seasonal outfitters who can help you prepare for an exploration of the Susquehanna River. If you'd rather do less rowing, take off on a river discovery boat tour using watercraft like the historic Chief Uncas. Or, stay on land to bike the Northwest Lancaster County River Trail that starts from the center.
Location: 1706 Long Level Rd., Wrightsville, PA
Phone Number: 717-252-0229
Nixon Park Nature Center and Preserve
Cool off in the 14,000-square-foot museum at Richard M. Nixon County Park, which has animal displays and exhibits about local flora and fauna. Learn more about York county wildlife with live and preserved specimens, including a working beehive, 80 mounted birds, and a display room featuring animals from the Northern Rockies, Africa, and the Arctic. Kids can explore the touch zone with themed interactive exhibits like the dress-up station, reading nook, and puppet shows.
Gaze out across the streams and woodlands from the large viewing windows where you can witness wildlife taking their turn at different feeding stations. This stunning nature preserve offers families the chance to experience the beauty of varied natural habitats with six miles of looped trails you can hike in the cooler parts of the day, or save for a visit in the fall or spring. You can visit the nature center Tuesday through Sunday.
Location: 5922 Nixon Dr.
Phone Number: 717-428-1961
Turkey Hill Experience
Turkey Hill is known for churning out sweet and creamy ice cream flavors and refreshing iced teas, stocking shelves in stores throughout Pennsylvania. Now, you can take your family to experience cool summer fun through interactive exhibits about this favorite dairy farm in nearby Columbia. Milk a mechanical cow or make a virtual ice cream flavor, play games, and even star in your own commercial.
Schedule a visit to the taste lab where you can create your own ice cream while learning the basics of making this tasty treat. Or, sign up for the tea discovery experience to sip flavors from around the world. Don't forget to don one of their signature white hats as you explore the history and fun of the dairy's story.
Location: 301 Linden St., Columbia, PA
Phone Number: 717-684-0134
That's our list of fun summertime activities for your family in York and our neighboring areas. Did we miss one of your favorites? Let us know so we can add your suggestions to our list. Ready to purchase another vehicle to get you to any of these fun destinations? Check out our pre-owned inventory online, or stop by our showroom at 2249 Bannister St. in York. Call us at 855-828-2665 to check our newest offerings and speak with our knowledgeable staff.