At Your Auto Source, we know that your family is your top priority, and we want to make finding a reliable SUV as easy as possible so you can feel confident that your vehicle keeps you and your loved ones protected. There's a variety of safe and stylish SUVs to choose from, so you may want to research your options and consider the features you want before visiting our dealership in York, Pennsylvania. Here's a list of the best family-friendly SUVs and some of their most impressive elements to help you find the vehicle you want.
What are the Best Used SUVs for Families?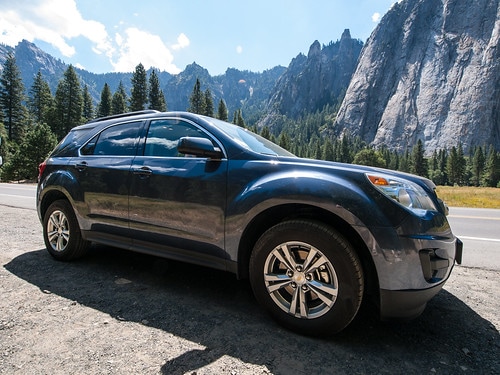 Image via Flickr by wwarby
If you're looking for a used SUV, there are a variety of vehicles that might be right for you and your loved ones. It's important to analyze the vehicle's safety features and room in the cabin to make sure it offers everything your family needs. Here's a list of the best-used SUVs for you and your family to consider.
Dodge Durango
If you're looking for a powerful V-8 engine and powerful towing capacity, you may want to consider the Dodge Durango. The rear-wheel-drive V-8 model can tow up to 7,400 pounds.
If you're looking for an affordable option, you can also count on the reliable V-6 engine in the base model. With a standard second-row bench, the Durango can seat eight people. It also offers 38.6 inches of legroom for passengers in the second row and 33.5 inches of legroom for third-row passengers.
Honda Pilot
Consider the Honda Pilot if you're looking for a family-friendly and reliable SUV with a five-star crash test rating from the National Highway Traffic Safety Administration (NHTSA). Your passengers may enjoy a variety of interior features, including infotainment, which showcases a backseat entertainment system and a 4G LTE mobile hotspot.
If you have a large family or want an easy way to communicate with the people in your cabin, you can upgrade to a Pilot with a PA system, called Cabin Talk, that allows you to speak with the passengers in the back seat without taking your eyes off the road.
Ford Explorer
The Ford Explorer is a popular option to consider if you're looking for a used SUV with a stylish exterior and an interior with plenty of room for your family. Although driver assists don't come standard with the Explorer, you can upgrade to add on a variety of helpful features, including a self-parking feature and automatic emergency braking. You can choose the base model, available with front-wheel drive and a V-6 engine, or upgrade to the available all-wheel drive version with a turbocharged four-cylinder and twin-turbo V-6 engine.
Chevrolet Traverse
You may want to consider the Chevy Traverse because of its spacious interior and cargo area, with 23 cubic feet behind the back seat. In the Traverse, you can seat eight people, or limit it to seven passengers if you opt for the available captain's chairs. The base model features a front-wheel-drive and a standard V-6 engine, but for an additional investment, you can go for an upper-level trim and take advantage of its four-cylinder engine and all-wheel drive.
Nissan Pathfinder
The Nissan Pathfinder has the elements you're looking for in a crossover SUV in a powerful package. In addition to its family-friendly features, it has an impressive towing capacity of 6,000 pounds. It comes equipped with driver-assistance technology that other SUVs only have available in upgraded trim levels, including rear parking sensors and automatic emergency braking. If you're interested in a model with a V-6 engine, you can choose from front-wheel and all-wheel drive.
Kia Sorento
With excellent safety ratings, the Kia Sorento is a great option for a family-friendly SUV crossover. You can expect a four-cylinder engine and front-wheel drive from the base model, although a V-6 engine with a four-wheel drive is also an option if you're willing to pay a little more. Although it only seats seven, the Sorento is available with driver-assistance technology, including lane-keeping assistance and automated emergency braking.
Volkswagen Atlas
With a rugged exterior and spacious cabin, the Volkswagen Atlas is a popular choice for families looking for a stylish and reliable SUV. This vehicle seats six if you choose captain's seats, and has the capacity to seat seven with a standard second-row bench. Although it lacks some of the infotainment features other popular SUVs provide, it does come equipped with 17 cup holders and other interior details your family members are sure to enjoy.
Toyota Highlander
If you're interested in a crossover SUV with a hybrid variant, consider the impressive Toyota Highlander. All models come equipped with helpful driver-assist features, like automated emergency braking, adaptive cruise control, and lane-keeping assistance. The four-cylinder base model comes with front-wheel drive, but you can also choose models with four-wheel drive, a gas-powered V-6 engine, or a hybrid battery. The Highlander seats eight unless you choose the captain's chairs, in which case you can fit seven people in the SUV.
Subaru Ascent
If you're interested in a smaller SUV crossover with impressive safety features, all-wheel drive, and innovative driver-assist technology, consider the Subaru Ascent. Although it doesn't come equipped with a backseat entertainment system, passengers can take advantage of eight USB ports and a 4G LTE mobile hotspot, so they can charge and access any devices they bring along with them for the ride. If your family is thirsty, there's plenty of storage room for their beverages, with 18 cup holders included.
Find the Right Used SUV for Your Family
You can check out our extensive inventory of used SUVs to see the family-friendly vehicles we have available and contact our sales team to discuss which option is right for you. Call us at 855-828-2665, or visit our showroom to review the vehicles in person and take them for a spin. You can also meet with the professionals at our finance center to learn about your financing options and figure out which payment plan is right for your family.