Whether you're in the mood for a simple sandwich while on the run or a sit-down meal to celebrate something special, Columbia, Pennsylvania, is full of mouthwatering food. We rounded up the best restaurants around. Read on for Your Auto Source's guide to where to eat in Columbia.
The Inn at Bully's Restaurant
Flesh Fillet Steak by ReinhardThrainer is licensed with Pixabay License
A landmark that holds Columbia's history within its walls, The Inn at Bully's is a tavern within a cozy local inn. The building has been around since 1903, used initially as a railroad hotel. The current owners opened Bully's in 2000 with a vision for a friendly, family-owned restaurant serving Columbia locals and visitors alike. Ten years later, they expanded to add an inn as a nod to the building's history.
While the warm and inviting environment and historic location are enough to attract guests, it's the food and drinks that bring people back. The menu features pub favorites like wings, burgers, ribs, and fries, but some of the most exciting culinary experiences come from the chef's rotating menu of specials. Past favorites include brisket in a blueberry sauce, lamb chops, spicy seafood macaroni and cheese, and a Cuban roll wrapped in a soft pastry. Plan an evening out at Bully's for a unique handcrafted meal in a nostalgic environment.
Location: 647 Union St., Columbia.

Hours: 4 p.m. to 10 p.m. Monday through Thursday and 4 p.m. to 11 p.m. Friday and Saturday.
Hinkle's Restaurant
Hinkle's Restaurant is an excellent old-fashioned diner serving Columbia for 124 years. Originally a joint restaurant and pharmacy, the current iteration of Hinkle's opened in 2017 and joined forces with Murphy's Mercantile & Co., a vintage-inspired local brand offering unique artisan goods. Together, they bring Columbia residents a nostalgic experience that feels like stepping into an old photo album.
The breakfast menu features American classics like scramblers, omelets, and waffles. If you want something simple but customizable, opt for the breakfast sandwich and take your pick of bacon or sausage on ciabatta, an English muffin, a pretzel roll, toast, or a bagel. You can pick from a robust list of hot and cold sandwiches, wraps, and salads at lunch. For a bite of history, try the Old Fashioned Shifter, a dish inspired by the lunches of Pennsylvania railroad workers. It comes with ham, cheese, sweet pickle, tomato, and mayonnaise.
For many guests, the highlight of Hinkle's Restaurant is the old-fashioned soda fountain. Complete with floats, ice cream, sodas, and nostalgic decor, it's a great place to stage a family photo and enjoy a sweet beverage. If you have little ones, let them run wild in Murphy's candy shop on your way out, which maintains an expansive inventory of colorful treats sure to put a smile on your kids' faces.
Location: 261 Locust St., Columbia.

Hours: 7 a.m. to 8 p.m. Monday through Friday, 7 a.m. to 6:30 p.m. Saturday, and 8 a.m. to 2 p.m. Sunday.
Rocky's BBQ
There's nothing like sweet, juicy barbecue, and Rocky's BBQ is your destination for top-notch meat in Columbia. Rocky's BBQ started as a no-frills food truck that wood-fired all its meats inside, but the owners opened a brick-and-mortar restaurant in Columbia in 2016 serving all their greatest hits. The flavor is distinctly local, too. Rocky's BBQ uses Southern-style barbecue as a base, then adds in-house flavors to give it a touch of Lancaster County. Pitmaster Lionel "Rocky" Cunningham studied barbecue cooking extensively, and the dishes benefit from his careful care and technique.
Burnt ends are the fan favorite, but it's tough to find a slice of meat on the menu that doesn't earn rave reviews from guests. Brisket and pulled pork are both famous for their tender, smoked flavors. Rocky's homemade macaroni and cheese also has plenty of devoted fans, as do the slaw and potato salad.
Location: 28 N. 3rd St., Columbia.

Hours: Noon to 6:30 p.m. on Thursday, noon to 7 p.m. Friday and Saturday, and noon to 4 p.m. Sunday, excluding the first Sunday of the month.
Rose's Deli and More
Columbia residents can count on Rose's Deli and More for a quick bite on the go or a casual lunch with friends. This hole-in-the-wall is a local gem, delivering delicious deli sandwiches and a quiet, understated atmosphere to enjoy them. The star of Rose's menu is the Shifter, the iconic sandwich of local railroad workers. Another beloved Pennsylvania sandwich, the cheesesteak, is close behind in popularity.
If you have a mid-day craving for a crunchy breaded snack reminiscent of a day at the fair, make a pit stop at Rose's Deli and More. You'll have trouble picking between crispy mozzarella sticks, onion rings, fried mushrooms, and funnel cake fries. Save room because Rose's Deli and More is also famous for its decadent desserts. Opt for the peanut butter pie, which comes on a graham cracker crust with melty chocolate syrup drizzled over the top and a peanut butter cup in the center.
Location: 13 N. 4th St., Columbia.

Hours: 10 a.m. to 8 p.m., Monday through Saturday.
John Wright Restaurant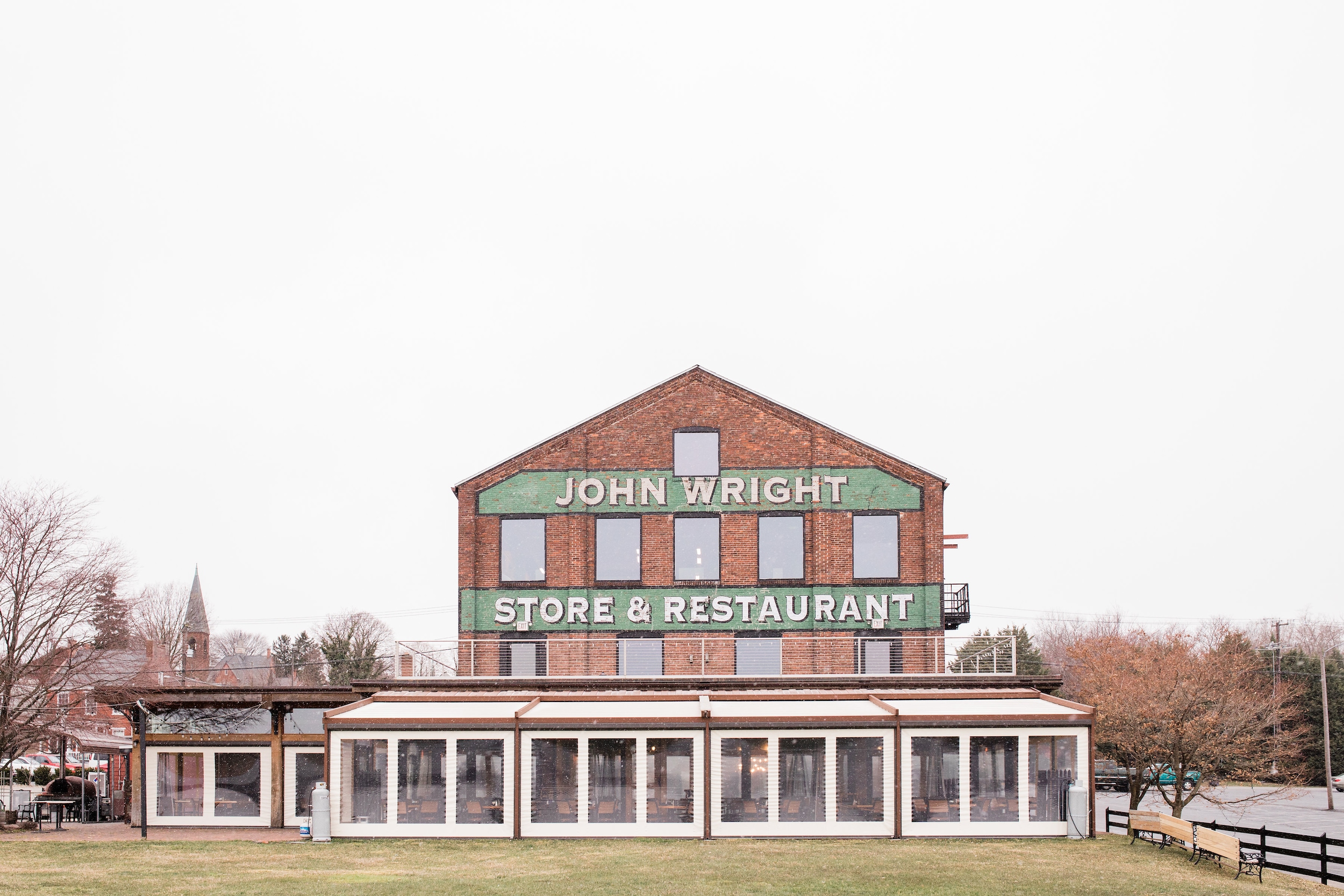 Book an evening at John Wright Restaurant just three minutes across the river for a scenic dinner in an atmosphere that's equal parts historic and modern. The Restaurant took up residence in a renovated old factory built in 1916 next to the sparkling Susquehanna River. The indoor dining room has three all-glass walls so you can view the water from any seat in the house. There's also a patio with an outdoor bar and a wood-fired pizza oven for alfresco dining when the weather permits.
John Wright Restaurant boasts an ever-changing seasonal menu that relies on fresh ingredients from local vendors. The wood-fired pizza is popular, but the seafood dishes earn the most five-star reviews from guests. Consider the seafood manicotti or the pistachio-crusted cod, especially if you're dining water-side. Make a reservation to ensure you get a great table with an idyllic view because this popular local spot fills up fast.

John Wright hosts trivia at their bar every Wednesday and live music every Friday and Saturday night. They are also a great location for holiday parties, weddings, and any other large gatherings. John Wright's banquet room, second floor, The River Room can hold about 180 guests
Location: 234 N. Front St., Wrightsville.

Hours: 11 a.m. to 3 p.m. and 4 p.m. to 9 p.m. Wednesday through Friday, 4 p.m. to 9 p.m. Saturday, and 11 a.m. to 3 p.m. Sunday.
That rounds out Your Auto Source's list of the best restaurants in Columbia, PA. If we missed your favorite spot for a delicious meal,
contact us
so we can add it. If you're in the Columbia area, stop by our used car dealership for the best deals in the area on cars, trucks, and SUVs.