For many, owning a motorcycle is a dream, but maintaining a bike can sometimes be a nightmare. Having a reliable bike that doesn't require much effort on your part can make it fun to own and ride a motorcycle. The last thing anyone wants is to get to the garage, ready to ride, only to find that the bike is on the fritz. Finding a low-maintenance motorcycle can help you spend less time in the shop and more on the road.
Some motorcycle manufacturers, like Honda, Suzuki, and Yamaha, are known for their dependability. Here's everything you need to know about motorcycles that require minor maintenance and are more dependable.
Kawasaki Ninja 400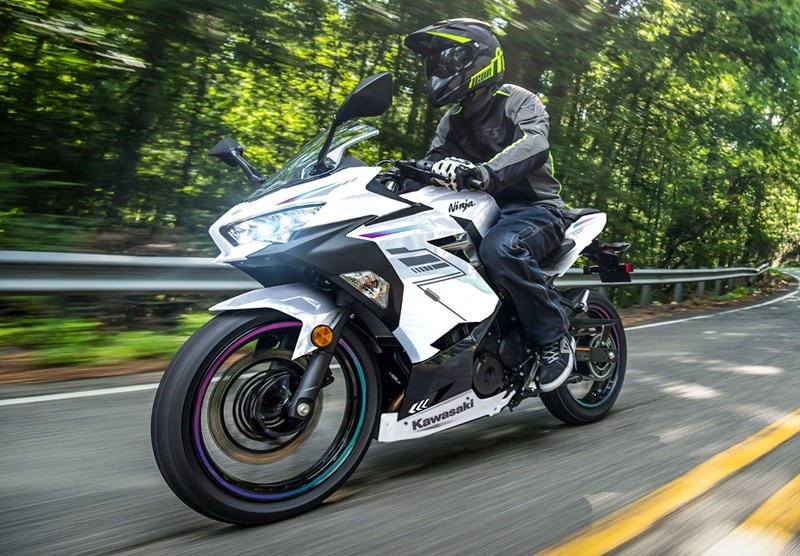 Sophistication, style, ergonomics, and power combine perfectly to create the Kawasaki Ninja 400. This bike offers a smooth and easy ride that packs a punch but doesn't overwhelm new riders. It's a compact bike with a twin-cylinder engine, a trellis frame, and a slipper clutch. Despite its high-tech and complex appearance, the bike is straightforward and reliable, meaning repairs will be the last thing on your mind. This bike is one of the most popular for a reason — it keeps you having fun on the road and requires little maintenance.
Honda CRF250L
Not only is the Honda CRF250L a joy to ride both on the road and off, but it's also reliable and straightforward to drive. If you plan to get a CRF250L, you'll have to obtain a used one because Honda discontinued the line in 2021 to replace it with the CRF300L. But that's good news because it means any CRF250L models you can find are more affordable. Because they're so reliable, you don't have to worry about repairs stacking up, even with a used model.
This is an excellent bike for new drivers because it doesn't go hard on you if you make a few driving mistakes. Because these bikes are so standard, they are easy to repair and maintain. They are also very reliable, with some riders putting in more than 1,500 miles in a single month with little to no worries.
Honda Elsinore MT 250
The Honda Elsinore was first released in 1973 and is one of those vintage motorcycle dirt bike rides that will have you feeling nostalgic. This bike is for you if you're looking for something a little more old-school but without mechanical issues. This bike is reliable in many driving conditions, including on and off the road. It's also tame regarding mechanical problems, meaning you can spend more time exploring and less time in the shopping waiting room.
Though you won't find new Elsinore MT 250s, Honda is still manufacturing the replacement parts, making it simple to fix your bike whenever you have trouble. This can lower the maintenance cost and make the repair process more efficient. Plus, you can get to know the bike better when you're the one doing the repairs.
Kawasaki KZ 900
Kawasaki released the ZI in 1972 and brought out the KZ four years later. The ZI and KZ are known for their agility and power, making for a fun and quick ride that can thrill new and veteran riders. These bikes represented an older era in the motorcycle world when everything was intentional, well-crafted, and reliable.
The KZ and ZI may not be flashy and new, but they're reliable when it counts. You won't need to do many repairs with these bikes, and when you do, you can quickly get some replacement parts from Kawasaki, as they're still creating them.
BMW R nineT Pure
If you're a German engineering fan looking for an entry-level bike that will not break the bank, this BMW may be the right choice. It's on the lower end of the price range for German motorcycles and can also be more affordable for repairs. The BMW nineT Pure is a classic motorcycle that brings only the essentials, which means there are far fewer parts to break and systems to go awry.
If you're feeling handy, you can often find repair manuals and guides online, making it easy to avoid the shop and the extra fees and get minor repairs done yourself. If you do take the bike out to a shop, it can still be cheaper than many others on the market, especially when it comes to German bikes.
Suzuki SV650
Suzuki is known for their stellar craftsmanship and reliable builds, and the SV650 is no exception. This bike is a classic beginner, partly because it's easy to drive and care for. Even though the engine is plenty powerful, you won't have to worry about repairs with the SV650. When something goes wrong, it's often simple to fix and reasonably affordable.
Yamaha V-Star XVS650
Are you looking for a reliable and low-maintenance cruiser? Then the V-Star is your guy, with a classic style and smooth ride. This is one of the bikes on the list that requires a bit more maintenance than others, but for a carburetted bike, it's pretty tame. With the V-Star, you likely only need care once a month and then seasonally to have a fun, fast, and efficient ride.
Yamaha XS 650
The Yamaha XS features a streamlined design in which the engine and gearbox are accessible beneath the same casing on the bike's exterior. This means getting to the parts is simple, and the horizontally split crankcases make it a breeze to make minor repairs. The XS 650 was produced for a single decade in the 1970s, and though the model is now out of production, there are plenty of bikes and parts to go around.
We hope this guide has been helpful if you're looking for a low-maintenance motorcycle for ultimate fun and no work. From Honda to Yamaha, there are plenty of bikes you can choose from for reliable and exciting rides. If you're looking for a motorcycle this year, our used inventory has plenty of high-quality, affordable bikes to help you balance value and cost.
Here at Your Auto Source, we make the bike purchase process low-maintenance on your end. We can help you find the financing that works for you and support you through each step in the process. For more information or to schedule a test drive, don't hesitate to contact our dedicated team of professionals today.
Image via
Kawasaki