Purchasing a vehicle represents a significant investment of both time and money. Naturally, you want to get the best possible deal on a car without sacrificing quality. With car buying, it's important to keep your emotions out of the process, do your research beforehand, and closely inspect the car you want to buy. You may also need to employ a few negotiation tactics to get the best price. That's why the team at Your Auto Source has put together this guide to help make your purchase that much easier.
Don't Fall in Love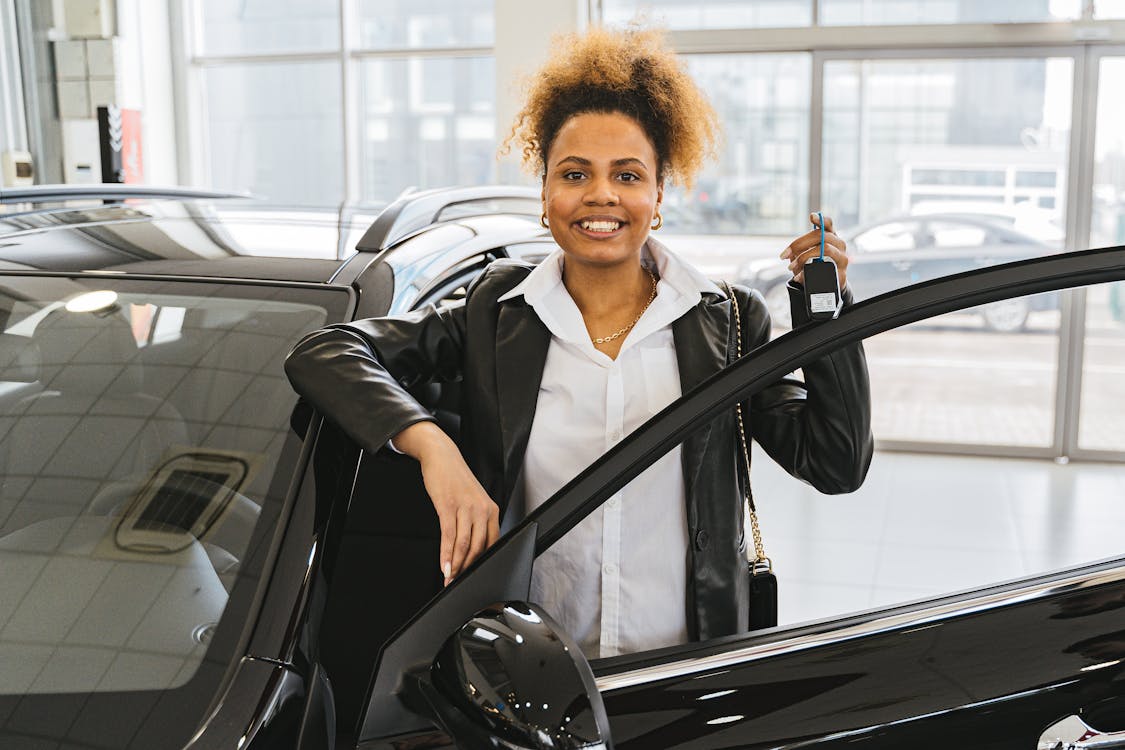 Woman in Black Blazer Holding Car Keys Smiling by Antoni Shkraba is licensed with Pexels License
Buying a car is different from meeting a new partner. You should keep your emotions out of the car-buying process as much as possible. Cars are commodities and should be viewed objectively. Even if you find a vehicle you really like, it's not the only one that will work for you. Your local dealership has an extensive selection of used vehicles with many brands to choose from. When you inspect and test-drive them, consider them from a practical standpoint, not an emotional one.
Sometimes, car buyers fixate on buying a specific make and model, even down to the year. This makes it more challenging to find the right car. Consider test-driving similar vehicles to expand your selection and get a better deal on a car. Remember that purchasing a vehicle is a business transaction. Don't fall in love with a car until after you've signed the paperwork.
Do Your Research
Before you step onto the car dealership's lot, you need to do some research on your own. An online search can help you narrow down the make and models that would fit your criteria and you'd like to test-drive. It can also help you determine which cars have the best reviews and which ones fit your budget. Once you find a model you like, you can search for similar vehicles to help you expand your selection.
Doing research online can help you get an idea of pricing, which will help you recognize a good deal when you see one at a dealership. When you compare prices, be sure to pay attention to the trim levels and mileage of the vehicle you're considering. A higher trim level means better features, but it can also mean a higher price.
Inspect and Test-Drive
Once you know which cars might work for you, it's time to take a test drive. You don't have to buy the first car you drive. In fact, it might be a good idea to drive a couple of different models to help you choose the one you like best. Pay attention to how the vehicle operates on the road and how comfortable it is to drive. Don't forget to check out the trunk space, the back seat, and any other elements you'll use a lot.
Before you start negotiations on the vehicle's price, thoroughly inspect the car. Car dealerships typically have their own inspection list before putting a car on the lot for sale, but it's a good idea to verify the vehicle's condition before you buy it. You can even take it to a mechanic you trust to give it an extra check.
Get Pre-Approved
While car dealerships can often offer better financing terms than your bank, getting pre-approved can help with the negotiation process. Knowing you've already qualified for a car loan makes you a serious buyer and differentiates you from someone who is just casually browsing the cars on the lot. It also gives you a good idea of your budget and what you can expect the monthly payments to be.
Pick the Right Time
Car dealerships always want to sell the inventory on their lot. However, they might be more open to negotiation with you at certain times. Typically, every dealership needs to meet a sales quota every month. You might get a better deal if you purchase a car at the end of the month when it comes down to those final sales to meet the target. Alternatively, you could visit the dealership during the week when there are fewer buyers around. This gives you more time to negotiate with the salesperson and test-drive the vehicles.
Stick to Your Budget
Setting and sticking to your budget before you walk onto a car dealer's lot is important. It's easy to get caught up in the excitement of purchasing a new car, but the euphoria won't help you make those car payments. Make sure you only buy a car you can comfortably afford.
Negotiate the Price
Negotiation is a valuable skill you can learn to get a better deal on almost anything. The car dealership expects to negotiate with you. Typically, they focus on your monthly payment amount and keeping that number within your budget. But you might get a better deal by negotiating one thing at a time.
For example, you'll first negotiate the price for the vehicle, followed by your trade-in value and then the terms of your loan. Dealerships may try to give you a good deal on the new car in return for a low value for your trade-in. There's nothing wrong with it if you're happy with the result, but you might fare better by negotiating these items separately.
Get Good at Saying "No"
Once you have successfully negotiated the price for the vehicle, it's still not time to let your guard down. Car dealerships may offer you upgrades or additional services that you may not be interested in. This could be extra tires, prepaid oil changes, an extended warranty, or upgrades to your car. You don't have to say "no" to everything, but you should feel comfortable declining any extras you don't want.
Focus on Price and Quality
Getting the best deal on a car isn't just about buying it for the lowest price possible. You want to get a quality vehicle that will meet your needs and last for a long time. There's also a trade-off between spending time and money. Extensive research could help you find a better price, but your time is valuable, too. You want to find that balance between buying the first car you see and spending months researching the best deals.
That's where the team at Your Auto Source in York, Pennsylvania, comes in. We're here to help you find a quality vehicle at a great price.